Cheddars Menu Prices.
The Cheddars menu prices are updated for 2023.
Please be aware, that prices and availability of menu items can vary from location to location. Cheddar's Scratch Kitchen owns and operates 135 restaurants in the USA. The company is owned by Darden restaurants.
Cheddar's Menu Prices – Updated.
Cheddars Menu Food Items
Size
Price

Cheddars Appetizers

Chips & Homemade Queso
$4.79
Santa Fe Spinach Dip
$5.79
Cheddar's Cheese Fries
Small
$5.79
Cheddar's Cheese Fries
Regular
$7.29
Chicken Tender Basket
$7.29
Loaded Russet Potato Skins
$7.49
Chicken Fajita Quesadilla
$8.79
Ultimate Nachos
$8.79
Homemade Onion Rings
$5.29
Wisconsin Cheese Bites
$6.99
Triple Treat Sampler
$9.29

Cheddars Soups

Homemade Chicken Tortilla Soup
Cup
$3.29
Homemade Chicken Tortilla Soup
Bowl
$4.49
Homemade Baked Potato Soup
Cup
$3.29
Homemade Baked Potato Soup
Bowl
$4.49

Cheddars Ultimate Lunch Combo

Choice of Half-Sandwich & 1 Pairing
$6.79
Choice of Half-Sandwich & 2 Pairings
$7.79

Cheddars Scratch Burgers

The Original
$5.99
Bacon Cheeseburger
$7.99
SmokeHouse Burger
$6.99

Cheddars Salads

Chicken Caesar Pasta Salad
$8.49
Crispy Chicken Salad
$8.79
Grilled Chicken Pecan Salad
$8.79
Signature Shrimp & Chicken Salad
$10.29

Cheddars Sandwiches

Maple Bacon Chicken Sandwich
$8.29
Buffalo Chicken Wrapper
$8.49
Cheddar's Club
$7.99
Monte Cristo
$8.49
Philly Cheesesteak
$8.49

Cheddars Favorites

Chicken Fried Steak
$9.29
New Orleans Pasta
$10.79
Vegetable Plate
$7.49
Key West Chicken & Shrimp
$9.99
Gigi's Baked Spasagna
$9.49

Cheddars Steaks

6oz. Top Sirloin
$9.99
8oz. Top Sirloin
$11.49
12oz Ribeye
$14.99
20oz Bone-in Ribeye
$19.99

Cheddars House-Smoked Baby Back Ribs

Half Rack
$10.99
Full Rack
$15.79

Cheddars Combinations

Chicken Tenders & Shrimp
$10.79
Top Sirloin Steak & Chicken Tenders
$13.49
Top Sirloin Steak & Ribs
$14.79
Half Rack of Ribs & Shrimp
$14.49
BBQ Chicken & Half Rack of Ribs
$13.99
Top Sirloin Steak & Shrimp
$13.99
Half Rack of Ribs & Chicken Tenders
$14.29

Cheddars Lighter Side

Lemon Pepper Whitefish
$8.29
Grilled Baja Chicken
$8.79
Citrus Miso Glazed Salmon
$8.99
Sweet Heat Chicken & Shrimp
$8.99

Cheddars Chicken

Chicken Tender Platter
$8.99
BBQ Chicken Platter
$8.99
Homemade Chicken Pot Pie
$7.79
Dijon Chicken & Mushrooms
$9.79
Lemon Pepper Chicken
$8.99
Grilled Chicken Alfredo
$9.49
Country Chicken Fried Chicken
$10.49

Cheddars Fish

Blackened Redfish W/ Crab Sauce
$14.29
Grilled Salmon
$10.99
Cornmeal Catfish
$9.79
Grilled Catfish
$9.79
Grilled Tilapia & Shrimp with Mango Salsa
$9.99
Beer Battered Fried Shrimp
$10.79
Fish Tacos
$7.79

Cheddars Made-From-Scratch Sides

Steamed Fresh Broccoli, Homemade Black Beans, Buttered Off-The-Cob Corn, Mac & Cheese, Freshly Made Coleslaw, Seasoned Rice, French Fries, Broccoli Cheese Casserole, Mashed Potatoes, Red Beans & Rice, Loaded Baked Potato, & Southern Green Beans
$2.49
House or Caesar Salad
$3.79
Honey Butter Croissants
3 Croissants
$2.99

Cheddars Kids

Grilled Cheese
$4.99
Chicken Tenders
$4.99
Junior Burger
$4.99
Mac & Cheese
$4.99
Penne Pasta Marinara
$4.99
Grilled Chicken
$4.99

Cheddars Desserts

Dessert Minis
Each
$1.49
Dessert Minis
Trio
$3.99
Hot Fudge Cake Sundae
$5.49
Cheddar's Legendary Monster Cookie
$4.99
Apple Crisp A La Mode
$4.99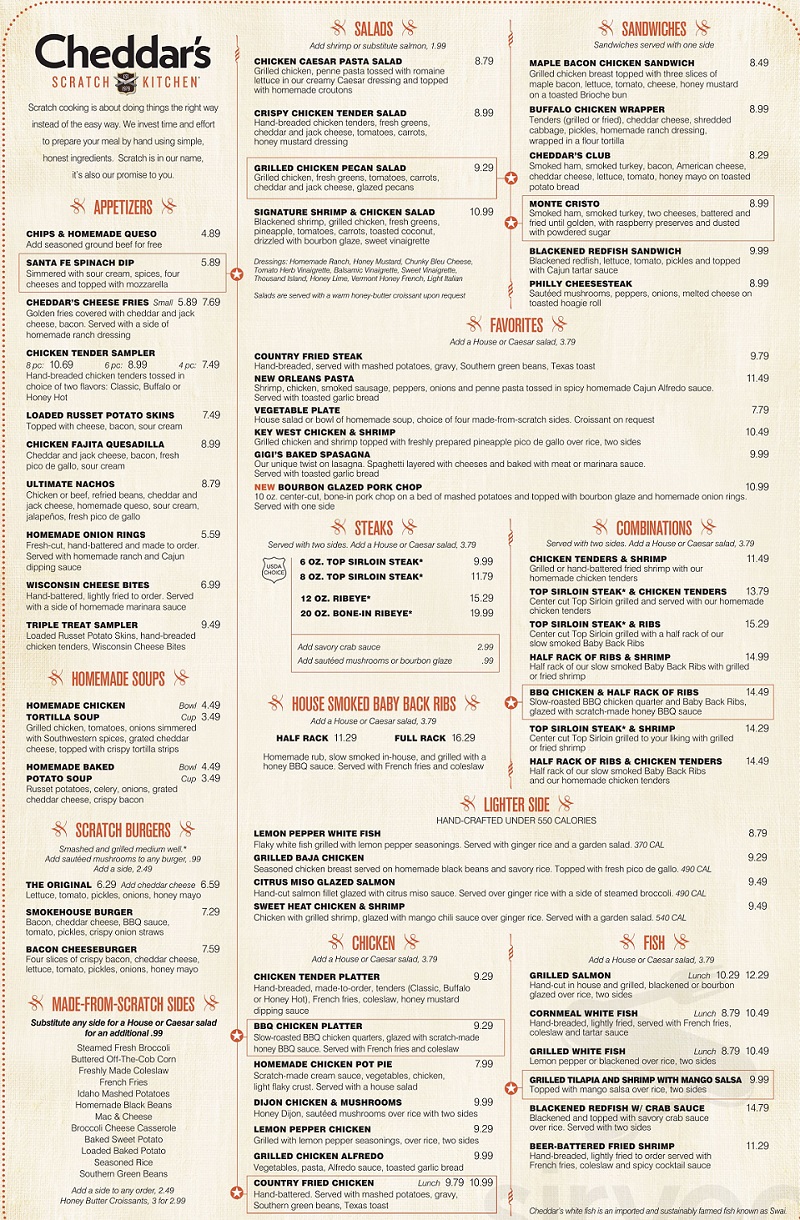 Add Your Cheddars Scratch Kitchen Review!
Please add a restaurant review, or any praise and complaints, below.
The prices listed are the national averages. Prices can vary from restaurant to restaurant.